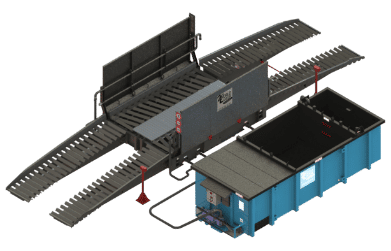 An easily movable high-pressure mobile wheel washer. Installed in 4 hours.
The World Laveur Mobile is a washing station for trucks that comes in two configurations: 100% off ground, requiring no civil engineering, which is ideal for temporary sites. With some civil engineering works, it is possible to use this washer without the ramps, in a buried version. This limits the surface needed and is very practical for sites on restricted surfaces.
A safe and easy to clean washing system.
This washer works in a closed circuit. It is made up of a washing tank where trucks drive through and a sedimentation tank storing 17,000 liters of water.
A sludge collecting tank is located under the cleaning part. A pump located in the washing tank transfers the sludge to the sedimentation tanks. Filters allows the sedimentation of the waste waters that are then used for other washing cycles.
An excavator equipped with a dredging bucket removes the sludge at the bottom of the sedimentation.
Standard dimensions of tanks for a mobile wheel washer.
Washing tank
4m (L) x 3m (W) x 1,75m (H)
Width : 2.7m
Sedimentation tank
6,50m (L) x 2,55m (W) x 1,80m (H)
A simplification to our flagship range.
Thanks to our experience and customer feedback, World Laveur limited its Mobile Washer range to two models that are adapted to the fouling levels of your sites.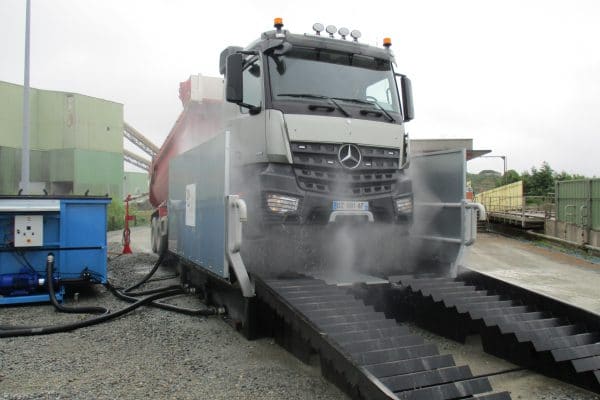 LM1-4000
Low or moderate fouling
The LM1-4000 washer is adapted both to dusty sites and heavy soils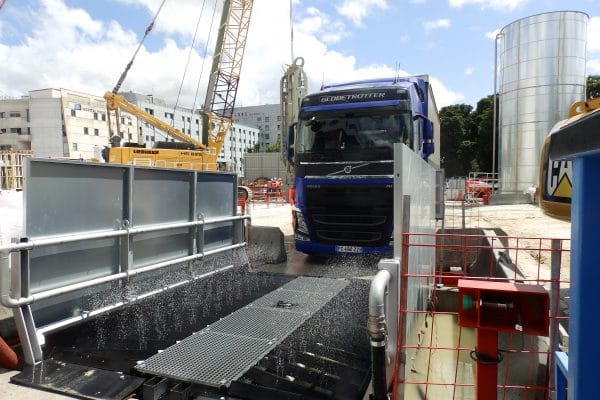 LM2-4000
Moderate to heavy fouling
The LM2-4000 washer is adapted to sites with porous or very loamy soils